I hopped aboard the vampire train and saw, with hundreds of giggling, squealing teenage girls, Twilight. And poor Brian. Poor, poor Brian. He was cringing the whole time. But bless his heart for trying, anyway.
Before seeing the movie, I told Brian I was a little nervous about it, because I have this, well,

problem.

When I read a great book or see a great movie like Gone With The Wind, Jane Eyre, Casino Royale and (Dare I include this in the same group? Sorry, mom.) Twilight, I get so wrapped up in them I want to

be

a character in that novel or movie. Scarlet O'Hara, Jane Eyre, and let's just face it, Bella Swan. And I would want to be a Bond Girl, except for the fact that they're always sleeping around and getting murdered in very unusual ways (and I wouldn't want to be murdered in any way at all). Dipped in gold, anyone?
And since I'm on this confessional kick, I will also say that it's usually the men that draw me into these fictional lives.

FICTIONAL, ABBY. FICTIONAL.

But, oh, that Rhett Butler, that mysterious Mr. Rochester, that dashing James Bond and yes, that blood sucking Edward Cullen. Because apparently blood suckers are hot. Hot like leeches and mosquitoes are hot.
So I was telling Brian, before we saw the movie, that I was a little nervous about seeing it. I said, "Really, honey, I may lose all sense of reality for a few days after watching it." And then he laughed. Oh how cute he thinks I am!
Warning unheeded, we went anyway. As we sat down I thought, "Say goodbye, Brian, to your wife as you knew her."
But, miraculously, nothing happened.
I wasn't hypnotized by Robert Pattinson. It was a miracle. But why?
I think that what snapped me out of total vampiric oblivion were the teeny boppers sitting next to us. They kept bringing me back to reality with their "Oh my GOSH"es and their "He's so cute!"s and their "He's going to kiss her!"s. Not to mention the endless texting, nudging and giggling. Finally, I leaned over to them and said, "HEY! You guys! SHHHH!" But by then it was too late. My reverie was aborted.
But, it's all for the better. Brian still has his regular wife. I have my regular mind.
I do wonder though, if Robert Pattinson has the appeal that Daniel Craig or Clark Gable does. And I just don't know if he does. I have been thinking of some people who may have fared better.
A) Mi Esposo (also my top pick)
B) Hayden Christensen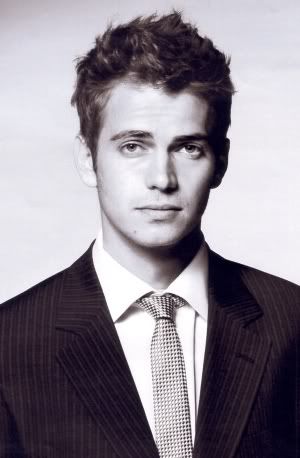 C) James Franco
So. There you have it. My apologies to mi esposo, my dad, and my brother, who are probably reading this in embarrassment.
And to you teenage girls at the movie theatre, thanks for being so obnoxious. If you weren't, I may very well be sitting staring at a blank wall and foaming at the mouth right now.